Arches has a new product. A block of 140 watercolor paper in a 4" x 10" size. Fun to paint quick landscapes. Fun to paint tall grandfather clocks. Just a fun size. But why I'm writing about this paper here is that right now, the paper is packaged with two squirrel paintbrushes from Arches - a size 5 and a size 1. The kit looks like this in the Dick Blick store: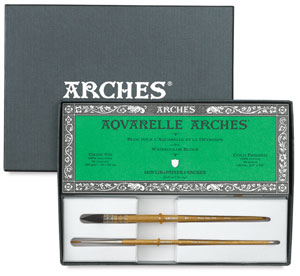 The brushes are so much fun to use that I actually went back to the Dick Blick store here in Pasadena and bought another kit - equally for the paper and equally for the brushes. Right now the kit is 19.99 on DickBlick.Com.
Just thought I'd tell you about a wonderful find.